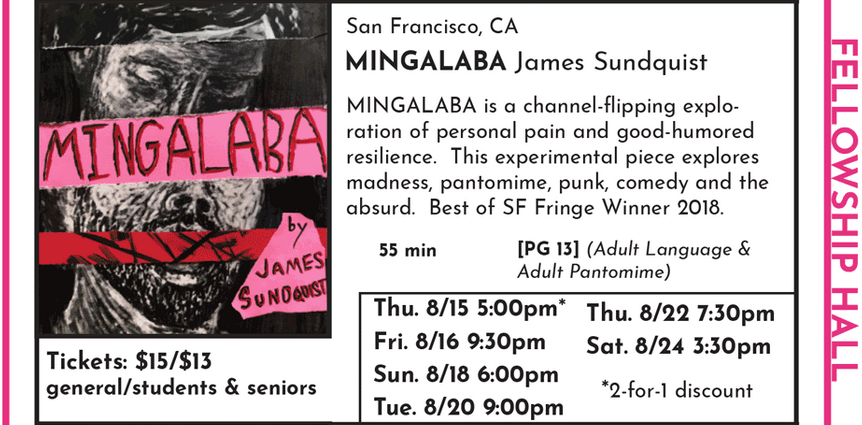 This is the second solo show I've created. You can read reviews from 2018 SF Fringe!
A cascade of characters, wild with action scenes. You can't take your eyes off the act because you have no idea what's coming next, or who the f**k will be getting kicked down the imaginary stairs or arrested for murder. You can imagine. James Sundquist!
Hilarious character work within this outstanding solo performance! There was not a single dull moment throughout the entire show. A must see!
Enthralling, poetic, manic, skilled, and beautiful. I loved every moment.
Allow yourself to be transported to strange worlds as beguiling as TV, but without all the guilt of a Netflix binge. This is a show for someone who wants to feel something, but you're not sure what, and to experience a madness that can only be described as reminiscent of Alex DeLarge from A Clockwork Orange. Check out the next showing of MINGALABA TONIGHT! at 9:30 pm in the Fellowship Hall.
Great show! This piece is fast paced, high energy and keeps you engaged the whole time. I found a lot of it really funny. And kind of dark. And sometimes just really bizarre. Overall a really fun ride. Highly recommended.
MINGALABA reeks of the pure enthralling and chaotic energy of mindlessly clicking through TV channels on a humid summer afternoon. There's nothing mindless about Sundquist's performance though, as he commands you through a series of winding and awe-inspiring sketches and tidbits that cause everything you think you've learned about the show to come crashing down at your feet. All killer, no filler.
Expeditious Intent is instantly engaging and hilarious while also being deeply emotional and relatable. An impressive, vivid, one man show!